14 Consecutive Years - Wilsons Auctions announced as Platinum Award Winners in Deloitte's Best Managed Companies 2023
Wilsons Auctions is extremely proud to have been named as one of Ireland's Best Managed Companies, for the 14th consecutive year.
The annual awards programme which is led by Deloitte in association with Bank of Ireland, spotlights private business across the island of Ireland and the exceptional performance that drives them.
Winners were announced at a black-tie gala ceremony on Thursday 14th September at The Convention Centre Dublin.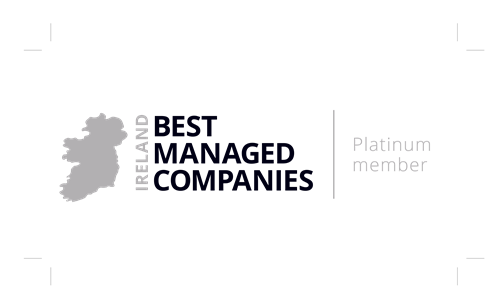 In the 2022 – 2023 financial year Wilsons Auctions was able to highlight an annual hammer total in excess of £500 million and demonstrated superior business practice focused on continuous growth and expand its offering, ensuring that it is meeting the needs of both its vendors and purchasers alike.
Entrants to the Deloitte programme compete for the designation in a rigorous process that evaluates the calibre of their management abilities and practices in addition to the strategy, capability, innovation, culture, and financial performance of their companies.
As a result of an ever-growing client portfolio, both locally and internationally, Wilsons Auctions hosts over 3,100 auctions annually, including property, vehicles, plant and machinery and also specialist equipment, general goods and high-end valuables.
The auction company also manages the asset realisation process for private and public sector as well as law enforcement agencies, dealing with the collection, valuation, and auctioning of assets on behalf of its extensive client base.
Speaking of the award, Ricky Wilson, Director and Auctioneer at Wilsons Auctions commented, "What makes Wilsons Auctions a best managed company is without doubt our employees and excellent communication amongst them. By carefully developing and implementing strategies, this award ensures that we as a company are making steps in the right direction. We are delighted to be presented with this prestigious award again and cannot thank our employees enough."  
There were also 112 companies that requalified as a Best Managed Company, five companies achieved Gold Standard, and five companies were awarded Platinum Standard.
Brian Murphy, Lead Partner for Ireland's Best Managed Companies Awards Programme at Deloitte Ireland said: "This year we're celebrating 15 years of the BMC programme and the incredible companies that have qualified. Even though this year's cohort faced into another challenging period, over the past 15 years we've seen how indigenous Irish businesses find opportunities in change. Strengthening governance and recognising the value of specialist expert advice on critical areas such as ESG were key discussion points in the coaching sessions. We also saw companies increasingly focused on innovation driving internationalisation. Despite the uncertainties of the past few years, the confidence of Irish businesses is clear as more and more are scaling their market reach internationally".
Nikki Canavan, Senior Director, Head of Origination & Sustainability, Corporate Banking Ireland, and judging panel member said: "Over the last number of years the companies in the Best Managed Companies network have shown huge strength in the face of disruption and uncertainty. This year in particular – a year that tested Irish businesses like never before – the judges noted the commitment, bravery, resilience and tenacity of the applicant companies."
The members of this year's judging panel were: Frank Ryan (Chair of Judging Panel) and current Chairman of the Board of IDA Ireland; Nikki Canavan, Senior Director at Bank of Ireland Corporate Banking; Feargal Mooney, Non- Executive Director and former CEO of Hostelworld Group; Sarah Murphy, CEO, Business Post; Colm Foster, Director of Executive Education at the Irish Management Institute; Ellvena Graham OBE, Chairman and Non-Executive Director, Ellvena is Chair of the Belfast Waterfront, ICC & Ulster Hall, Chairman of the Economic Advisory Group (EAG) in Northern Ireland, member of Senate & Senior Independent Governor of Queen's University, Non Executive Director Dale Farm, and Chairman Catalyst; Lionel Alexander, Chairman Intact Software, Board Member Fine Grain Property, Board Member at St. James's Hospital Dublin and Chairman Advanced Manufacturing Centre Ireland.
Established in 1936, Wilsons Auctions is a family-owned business that has grown from a single auction site in Northern Ireland to nineteen sites, including ten branches in Belfast, Glasgow, Dublin, Maidstone, Newcastle-Upon-Tyne, Newport, Portadown, Queensferry, Telford and Oxford. It is the only auction company in the British Isles to offer a national coverage, allowing it to draw on experience, resources, and ideas from all of its branches.
To keep up to date with all of Wilsons Auctions News Click Here, follow us on Facebook @wilsonsauctionsltd or go to @wilsonsauctions on Twitter and Instagram.