Support Wilsons Auctions' Branch-to-Branch Charity Challenge!
Wilsons Auctions Group unites across boarders in the UK and Ireland to raise vital funds for two important charities this August.
About Branch to Branch
This challenge includes all staff members across the Wilsons Auctions Group, all ages and abilities to take part and to cover a total distance of 2,100km. This is the full distance if you were to visit all the Wilsons Auctions' branches across the UK and Ireland in the following order: Dublin - Portadown – Belfast – Glasgow – Newcastle – Maidstone – Oxford – Newport – Telford – Queensferry and return to Dublin.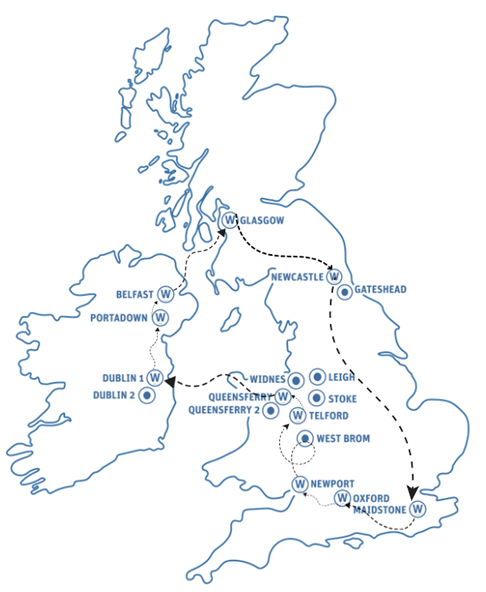 This charity challenge will take place 1st – 11th August 2023.
Staff will be putting on their trainers and covering the distance by walking, running, cycling or rowing – the elements required to cross all the bordering countries. Some staff will be taking on their own journeys to cover the required distance.
For more members of staff, there will be a selection of cardio machines such as treadmill, bicycle and rowing machine placed within each branch. Visitors will be more than welcome to get involved!
The initiative of the fundraising event was sparked by Jason Delaney, Branch Manager at Wilsons Auctions Dublin. With this, Jason will embark on a solitary journey, walking the distance from Dublin to Portadown, spanning approximately 150 kilometers.
Jason commitment to making a positive impact through this charitable challenge was through the loss of his mother Mary Delaney, aged 36. Mary sadly passed from breast and lung cancer.
All proceeds raised by the event will go to supporting life-saving cancer research. 
The Charities
The two charities selected for this fundraising effort are Cancer Research UK and Marie Keating Foundation. Find out more information below on:
Thank you for supporting this charity challenge.