Gala Ball celebrates the life of Baroness May Blood
On 24 May the Integrated Education Fund (IEF) hosted a very special 'May Ball' in the Europa Hotel, Belfast, to celebrate the life of Baroness May Blood and her incredible contribution to Integrated Education in Northern Ireland.
This glittering gala was hosted by Maxine Mawhinney, includes music from Arco quartet, comedy from Tim McGarry, a performance by the Diva Dolls- including May Blood's great niece Heather, alongside personal tributes from those who knew May best.
'The May Ball' brought together many of May's well-known friends from the world of entertainment, leading supporters from our donor community, representatives from Integrated schools and May's family and friends.
Award winning broadcaster Maxine Mawhinney hosted the special evening, including special tributes from the stars of screen, including Liam Neeson, Adrian Dunbar, Ciaran Hinds and Geraldine Hughes.  Ciaran Hinds reminisced about Baroness May Blood, that she was a 'vital, determined, wonderful soul.'  Adrian Dunbar commented that she was 'a hugely impressive human being.'
Another tribute was read out from Hillary Clinton, saying that 'May left behind an enduring and significant influence.'  Hillary then called for everyone present to 'continue her work for Integrated Education & a shared future.'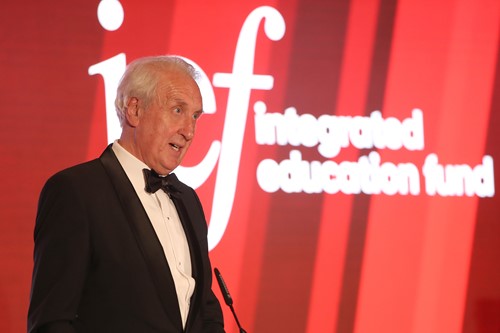 The evening included several special musical performances, including some of May's favourite tunes. Lagan College Trad Group provided music which displayed the school's musical excellence and diversity with instruments from different cultural heritages.  Former Millennium Integrated Primary School pupil Ryan Cupples-Menendez provided bagpipes to lead the guests into the Grand Ballroom.  Arco Quartet, one of the country's leading professional and dynamic string quartets, serenaded the guests during their meal.
Following the meal, broadcaster Tim McGarry provided some comedic commentary on his relationship with May, starting with a declaration that 'May was my hero'.
One of the many highlights of the evening was when Wilsons Auctions' very own Ian Wilson and Ricky Wilson took to the stage for the charity auction. There were many incredible original items that proved extremely popular with the guests.  Among these items were six original artworks by artists Oliver Jeffers, Neil Shawcross, Colin H Davidson, Rosie McGurran, Kenny McKendry and Integrated AlumNI Tara Curran.  There were several experience prizes, such as a tour of the set of BBC One series 'Hope Street', afternoon tea at Glenarm Castle and tickets for exclusive concerts and sporting events.  Another very unique prize was the opportunity to win a piece of history, with a signed copy of the Belfast/ Good Friday Agreement.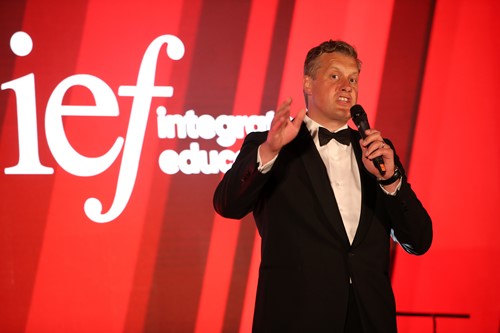 The evening is expected to raise more than £40,000 (net profit) and all funds raised at the May Ball will support the establishment of new Integrated schools, the growth of existing Integrated schools and those schools seeking to become Integrated through the Transformation process.
The evening ended with a spectacular performance by the Diva Dolls, a stunning all female music group which includes Baroness May Blood's great niece Heather.
Paul Caskey OBE, Head of Campaign at the IEF, worked alongside Baroness Blood for over 20 years commented: "Following May's passing last October, we promised our supporters that we would organise a special evening to celebrate her amazing contribution to Integrated Education.  May was our voluntary Campaign Chair for over two decades and gave us so much of her time and energy to the cause. She took enormous pride in the continued growth and development of Integrated schools. We are sure that May would have been delighted that so many people came out tonight to honour her life and achievements.  Furthermore, May would have been overjoyed with the amount raised to support Integrated Education.  Thank you to everyone who came, who donated items and participated in the auction."